Ant exterminator in Laval
Are you looking for an ant exterminator in Laval?
If you have ant problems, you've come to the right place! Our certified technicians in Laval will be able to eliminate your ant problem for good! We have been pest management specialists since 1988!
Prevention tips to counter ants (free with each visit)
Use of environmentally friendly products – approved by Health Canada
Authorizations from the Régie du Bâtiment du Québec
The most common ants in Laval
The following different species of ants are commonly found locally: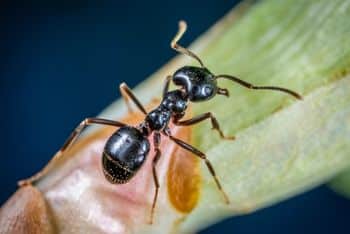 Pavement ants in Laval
The pavement ant is light brown to black in appearance, it invades buildings in search of food. Nests are usually found outdoors and are difficult to locate when you are not used to doing so.
Pharaoh ants in Laval
The Pharaoh ant is very small and looks light yellow with red and black markings on its abdomen. They mainly benefit from the heating in winter to survive and their nest is difficult to reach without the appropriate equipment.
Carpenter Ants in Laval
The carpenter ant can cause great material damage, since it loves to chew wood. It often builds its nest in rotting wood and then destroys surrounding structures. It can cause heavy damage!
Contact your ant exterminator in Laval
Contact us by phone or by filling out our form below. Our team in Laval will be happy to answer you as soon as possible. We offer a service 7 days a week for the extermination of ants.
Why choose our team


to eliminate ants from your home in Laval?

To exterminate ants, you need not only expertise, but the right products and the right equipment. The Rive-Nord Extermination team has all the skills to identify and completely eliminate your ant problem in Laval.
1. Site visit to identify the source of the problem and the type of ant
2. Extermination and elimination of ants
3. Decontamination (if applicable)
4. Apply preventive measures to avoid a new ant invasion
" We are completely satisfied with the services. From the technicians to the team that carried out the subsequent protection work at our home, everyone showed professionalism. In response to our concerns, you have all agreed to pay extra attention. A big thank-you ! "
Sylvie Gagnon