Pest Extermination
Whether it's the extermination of mice or rats, the identification of a specific insect species or the elimination of bedbugs, our exterminators are qualified to deal with all the pests whatsoever. They have the skills and knowledge necessary to guide you with confidence in all the steps of your extermination project.
Efficient compressor treatment
This type of treatment makes it possible to effectively eradicate insects, vermin and any other type of harmful element. This method makes it possible to reach hard-to-reach places and quickly get rid of an incredibly large number of parasites, right at the source of the problem.
Seasonal treatment against spiders, ants, earwigs
The return of spring often rhymes with the return of particularly invasive insects (spiders, ants, earwigs, etc.) which can quickly turn gardening activities and evenings outdoors on the terrace into a nightmare. As surprising as it may seem, it is not uncommon to see cases of ant infestation on the third floor of an apartment building in Montreal. Predict the blow by asking our experts to deal with the problem before it even arises. So you can enjoy the beautiful season with peace of mind.
Woodlice and wasp nest exterminator
Woodlice, although not very harmful, are rather unpleasant intruders who love the humidity of basements. We can advise you on how to control the level of humidity inside and around the house; this can be done, among other things, by improving drainage functions.
Wasps, on the other hand, can quickly ruin an outdoor family dinner with their invasive and sustained presence. Some species commonly set their nests under eaves, while others prefer the outside ledges of windows. Do not try to eliminate them by yourself: rather call on the services of exterminators qualified in the matter. This will save you a lot of inconvenience… and a few bites.
Safe biodegradable extermination products
You are able to offer you a complete range of safe extermination products that will allow you to carry out the work of eradicating harmful insects or vermin yourself in complete safety. We use safe biodegradable products that will in no way jeopardize the health and safety of humans and pets or harm the environment in any way. Our products are targeted and work only against what they were designed for.
Efficient and fast

exterminators
Professional extermination services performed by qualified technicians
Trust their extensive knowledge base to overcome your infestation problems. Our exterminators are qualified and dedicated and will be able to advise you properly and with confidence. Rest assured of their skills and expertise. After all, they have only one objective: to allow you to regain your peace of mind and the pleasure of being at home… without the parasites!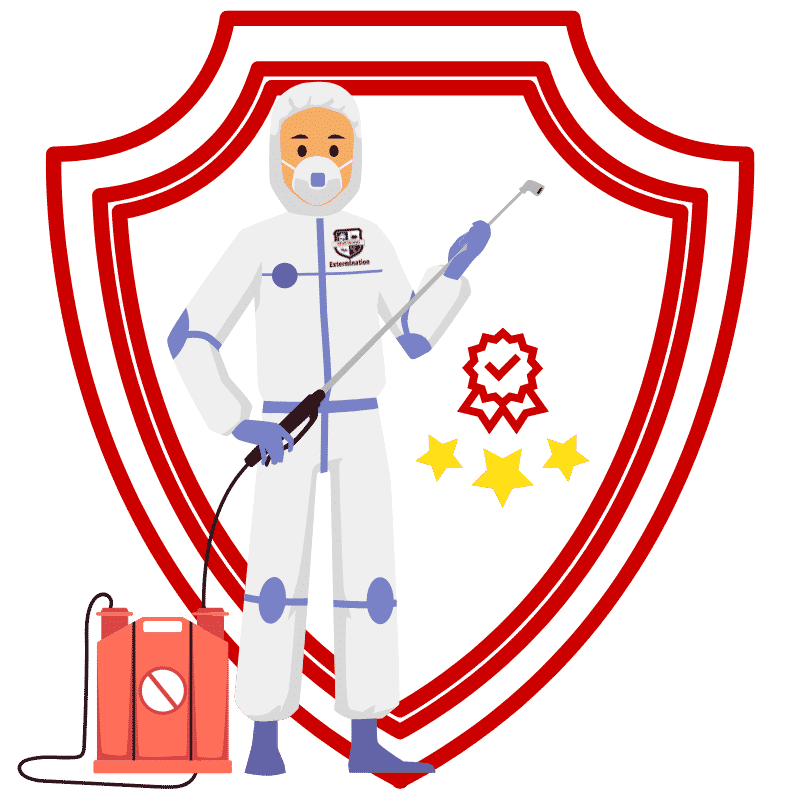 Work guaranteed in writing
Each service is guaranteed in writing, i.e. there remains a record of each extermination on paper. Thus, you will be able to document each intervention and stay on top of the details, even the most technical ones.
Full insurances
The protection contract guarantees the owner protection against any subsequent invasion of insects and vermin. Twice a year, by warning you a few days before, we come to inspect and treat the exterior of your property. We make sure that the house or the land are not subject to any infestation and that none of our alarm signals are red. Customers who place their trust in us for the exterior of their home can be assured of the interior protection of their home, for the same duration and under the same conditions.
Repentigny:
Laval:
Terrebonne:
Laurentides:
Montréal:
South-shore:
St-Eustache:
L'assomption:
Products and Existing Customers ONLY: