Infestation problem?
Call a Blainville exterminator
Is your home infested with pests or rodents? Ants or insects have stormed your home and you don't know who to call? Here is the best alternative available to you for an extermination in Blainville.
Pest management specialist since
Call us now
(450) 661-6568
Contact an

exterminator in Blainville
You can contact one of our exterminators in Blainville to take care of the critters that are present in your home.
Our Blainville exterminators have a pest control permit which is mandatory for any extermination company. It is this permit that gives us the authorization to practice our profession in accordance with the required standards.
Our exterminators must also use products that comply with standards and that in no way harm the inhabitants of the house. Technicians use strategies and appropriate extermination products allowing them to eradicate the pests or critters that have invaded your home.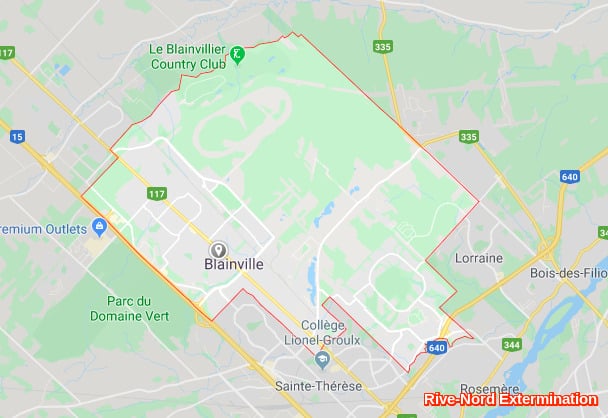 Our extermination company in Blainville
The good alternative
Our extermination company in Blainville has many teams of exterminators and technicians who will be able to solve your problems. We are responsible for deploying a well-trained team to your home to exterminate pests and critters.
In addition, Rive-Nord Extermination has an authorization from the Régie du bâtiment du Québec allowing us to carry out repair work. 'extermination. Our professionals are part of the pest control association recognized and certified in Quebec.
We intervene as soon as possible and we first take care of an inventory in order to put in place an effective extermination strategy against these bugs and pests.
Repentigny:
Laval:
Terrebonne:
Laurentides:
Montréal:
South-shore:
St-Eustache:
L'assomption:
Products and Existing Customers ONLY: